1. GENERAL INFORMATION:
SCHOOL OFFICE HOURS: 8:00 AM – 4:00 PM
– Monday To Friday (Except Public Holidays and School Holidays as per KiddyKare International Kindergarten's Calendar).
2. SCHOOL VISITS:

We welcome you to make an appointment to meet our admissions team and to take a school tour.
3. FEES AND SCHOOL HOURS OF EACH GROUP:

Please refer to the following information:
CONTACT 
: 02-6656777  / 
+66 (0) 87-010-4741

: +66 (0) 89-200-8896 (After School Hours, Weekends, Holidays)

EMAIL
:
kkare@kiddykare.ac.th
   : 
info.kiddykare@gmail.com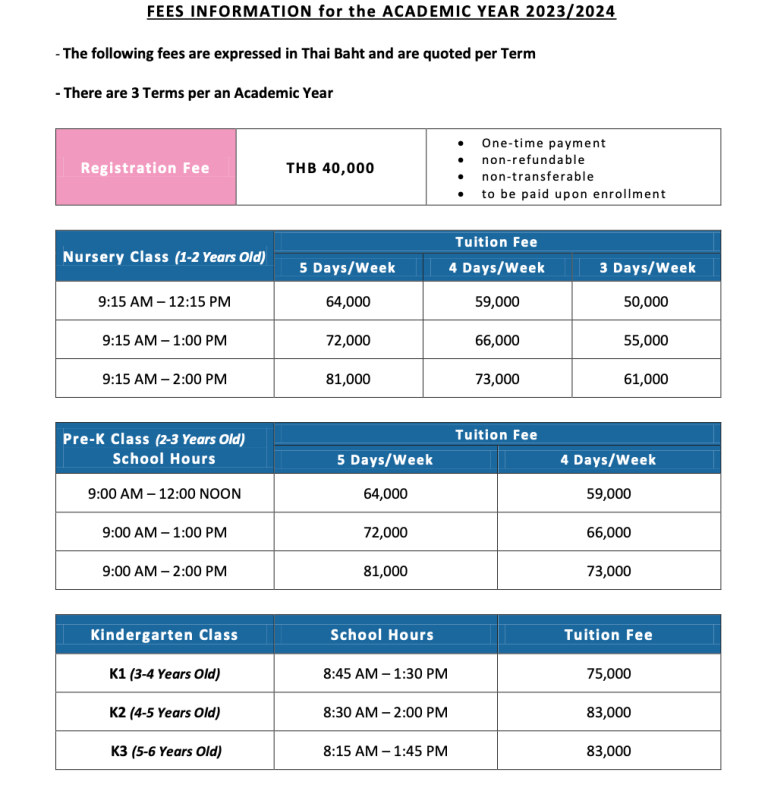 *Cut-off Date for class placement: 31
st
of August
**DISCOUNT POLICY: Sibling Discount of 5% for tuition fee only for subsequent child(ren) enrolled at the school
***Accident Insurance is included in the Registration Fee

4. APPLICATION PROCESS:
APPLICATION TIME
Parents are strongly encouraged to apply as early as possible. Eligible children may be admitted at any time during the academic year as long as a placement is available.

PLACEMENT
Placement is based upon the child's age, English speaking ability, readiness, and prior schooling experience. KiddyKare reserves the right, through its administrative and teaching staff, to determine specific placement of enrolling children. The admittance process will not be considered complete until KiddyKare's administrative and teaching staff has met with the child and designated appropriate class placement. Applicants unable to immediately enrol due to a lack of class space will be automatically placed on a waiting list and notified by email or telephone when an opening becomes available.
Only after receiving the fee payment and the following documents, the application process will be deemed complete:
– APPLICATION FORM: Completed enrolment application form
–  Support Documents for Application:
Non-Thai Nationality Children:
Child's passport (copy)
Parents' / Guardians' passport (copies) with non-immigration visa
Previous school record (if available)

Health record (Vaccination Reports)
Thai Nationality Children:
 Birth Certificate of Child (copy)
Thai household registration (copy)
Parents' / Guardians' ID card (copies)
Previous school record (if available)

Health record (Vaccination Reports)
For both Thai and Non-Thai students: 
Passport size (1″) photo of father (1) mother (1) and child (1) and authorized person(s) for picking child up from school